A lot of my little friends have new baby siblings so I thought it would be nice to do a storytime celebrating all things baby related!
Welcome song:  I played this song on my ukulele and used my iPad and Apple TV to project the lyrics.
Sign Language:  We learned the sign for "baby" and repeated it often.
First Book:  Ten Little Fingers and Ten Little Toes by Mem Fox
Fingerplay: Baby's Nap
This is a baby ready for a nap.          (hold up index finger)
Lay him down in his mother's lap.      (place finger on open palm of other hand)
Cover him up so he won't peep.     (wrap fingers around finger)
Rock him till he's fast asleep.         (rock hands back and forth)
(Source: Storytime Katie)
Felt Board:  Five Little Babies
One little baby rocking in a tree      (hold up one finger/rock arms)
Two little babies splashing in the sea      (two fingers/pretend to splash)
Three little babies crawling on the floor      (three fingers/crawl fingers on knee)
Four little babies banging on the door     (four fingers/pretend to knock)
Five little babies playing hide and seek      (five fingers/cover your eyes)
Keep your eyes closed now…until I say…PEEK!      (uncover eyes)
(Source: Perry Public Library)
Second Book:  Babies on the Bus by Karen Katz
Activity:  Baby Faces
I created various baby faces based on ones I found at Mel's Desk.  I made a bunch of smiling faces, a bunch of sleepy faces, and a bunch of cranky faces.  Next I laminated them and put a small piece of velcro on the back.  During storytime I handed each child a face and asked them to show their grown-up (this is my trick for 1. getting the grown-ups involved and 2. having the grown-ups help their little one wait for his/her turn).
Next we sang the following song and the kids who had the corresponding face could come up and put the baby face in the "crib" (i.e. stick it on the felt board).
"If your baby's feeling happy come on up,
If your baby's feeling happy come on up,
If your baby's feeling happy then it's time to take a nappy
If your baby's feeling happy come on up!"   (repeat with "sleepy" and "cranky")
Third Book:  Baby Parade by Rebecca O'Connell
Music Activity:  Rattles!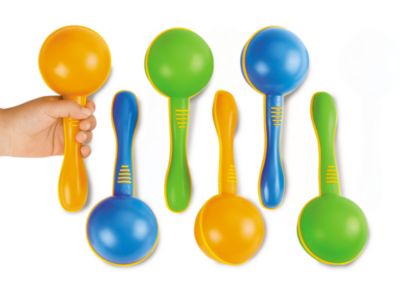 I handed out rattles (maracas) to each child and reminded them that babies love to shake rattles.  We shook our rattles along to the song "Run Baby Run" by Casper Babypants.  This song has a bunch of motions for the kids to do (run, jump, spin, clap,…) so it's perfect for storytime!
Goodbye Song:  I played the "goodbye" version of our welcome song on the uke and projected the lyrics.  It's a new song so my hope is that the kids will start to learn the words and join in.  Unitl then, I'm relying on the parents to drown out my voice!
Goodbye Rhyme:
Tickle the clouds
Tickle your toes
Turn around
Tickle your nose
Reach down low
Reach up high
Storytime is over
So wave goodbye!